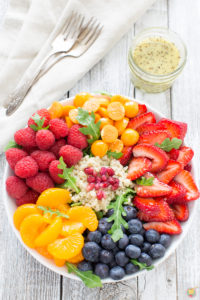 This makes a great brunch or snack, and your kids are sure to love it!  The crystallized ginger is optional, some kids may not like the taste but it helps to boost immunity and aids in digestion.  Grown- ups can keep it on the side and add into their own serving for some added zing.
Ingredients: 
1 ½ cups cooked quinoa

1 organic orange, cutie, or mandarin zested and juiced (about ½ cup juice and 2 tablespoons zest)

2 tablespoons flax or other mild flavored oil
1 tablespoon mild lightly colored vinegar (golden balsamic, citrus flavored, or apple cider vinegar will work)
1 tablespoon pure maple syrup
½ cup cherries, pitted and sliced
½ cup canned mandarin orange slices; drained
6-8 fresh mission figs, diced (you can also substitute ¼ cup dried fruit or apricots, diced)
2 tablespoons crystallized ginger (optional)
Method: 
Place cooked quinoa in a medium mixing bowl.  Wash orange well before zesting to remove any dirt; add zest to quinoa.  In separate small bowl or jar with a well- fitting lid; mix juice, oil, vinegar, and maple syrup well and pour over quinoa.  Using 2 forks, mix quinoa and liquid until evenly coated.   Sprinkle sliced cherries, oranges, and figs atop the quinoa.  For those who can tolerate dairy, spoon on some vanilla yogurt or whipped cream for added flavor.  Add crystallized ginger to the top if so desired.
Yields: 2 ½ cups                         
Prep Time: 30 minutes
Recipe by Mum-Mums dietitian Colleen Hurley